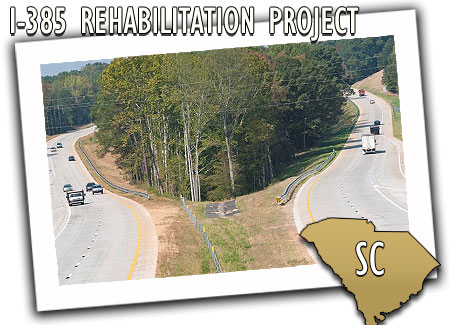 South Carolina Department of Transportation I-385 Rehabilitation Project
When US 276 in northern South Carolina became I-385 in order to accommodate the increase in traffic in the area, initial planning had not included a need for substantial upgrades. However, more than 25 years later, the roadway still had not had a reconstruction or rehabilitation.
South Carolina Department of Transportation engineers discovered that the original pavement in Laurens County, more than 50 years old, needed some substantial upgrade in order to meet the needs of the ever-increasing amount of motorists in the coming years.
For the first time in state history for a non-emergency project, SCDOT closed a 15 mile stretch of I-385 for rehabilitation in January 2010, ranging from the Interstate 26 interchange to Gray Court. The three-phase project included asphalt replacement with a thick 10 inches of concrete, a widening of the medians, a bridge replacement, and the raising (by two feet) of six more bridges. In order to save taxpayer dollars and commuting headaches, the goal of the project was simply to "get in and get out quickly."
By closing the highway, SCDOT planned to get the project done in eight months (as opposed to three years if lanes were kept open). This would also save money, as the three-year project would have cost the state $95.5 million. Safety for motorists and those operating in the work zones was also a major factor in closing this portion of the interstate. The public was always kept informed of the project with public informational meetings, media coverage and updates, brochures at all nearby rest areas, and a regularly updated website.
The stretch of rehabilitated roadway officially reopened on July 23, 2010, three weeks ahead of the eight month schedule, and under budget, as the accelerated project cost $60.9 million, amounting to a savings of more than $34 million to South Carolina taxpayers.
"This was an outstanding effort on the part of our engineers and our partners to be able to rehabilitate this stretch of interstate with such a minimal inconvenience to motorists," said SCDOT Secretary Robert St. Onge, Jr.
South Carolina Department of Transportation Contact Info:
Phone: 803) 737-2314
Website: www.scdot.org/