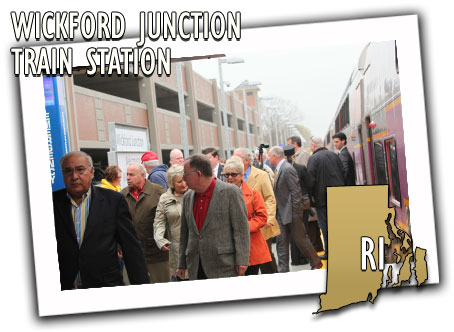 Rhode Island Department of Transportation Wickford Junction Train Station
Rhode Island Department of Transportation celebrated Monday the first day of commuter rail service at Wickford Junction Train Station in North Kingstown, months ahead of schedule and under budget.
Recognizing a need for greater transportation options in order to cut down on highway congestion, RIDOT began working on the Wickford Junction as part of the South County Commuter Rail expansion. The project was RIDOT's first design/build contract, as the project used one team to design and build the job almost simultaneously, which greatly reduced the necessary timetable for the project.
Originally scheduled to be completed as late as July 2012, Wickford Junction was open for business this week. RIDOT credits the design/build contract, weekly meetings with Amtrak to discuss progress, and early procurement of materials for its ability to come in ahead of schedule. The project, initially projected to cost $47.9 million, finished with a $43.4 million cost, a savings of about $4.5 million.
By expanding the existing rail service further south to Wickford Junction, commuters can now utilize service that includes 20 trips per day each weekday to and from Providence, Rhode Island, and Boston, Massachusetts, which is projected to alleviate peak hour congestion on area highways, most notably the Route 4/Interstate 95 corridor.
"Today's opening marks a huge milestone in public transportation in Rhode Island," said RIDOT Director Michael Lewis at Monday's ribbon cutting ceremony for the station. "The continuation of commuter rail into North Kingstown should bring some much-needed congestion relief to the heavily traveled South County corridor."
Lewis was joined by U.S. Department of Transportation Secretary Ray LaHood, Massachusetts Department of Transportation Secretary Richard Davey, Sens. Jack Reed and Sheldon Whitehouse, Reps. Jim Langevin and David Cicilline, and Gov. Lincoln Chaffee, among others.
"Commuter service at Wickford Junction Station will make additional transportation possibilities available to a whole new segment of Rhode Islanders," said Chaffee in a statement. "Infrastructure projects such as this make Rhode Island more economically competitive, create short-term and long-term jobs, relieve congestion on our heavily traveled roads, and improve quality of life."
LaHood posted a video of the opening of Wickford Junction on his blog, available at bit.ly/wickfordvideo. Additional information can be found on the project website at wickfordjunction.com.
Rhode Island Department of Transportation Contact Info:
Phone: (401) 222-2450
Website: http://www.dot.state.ri.us/